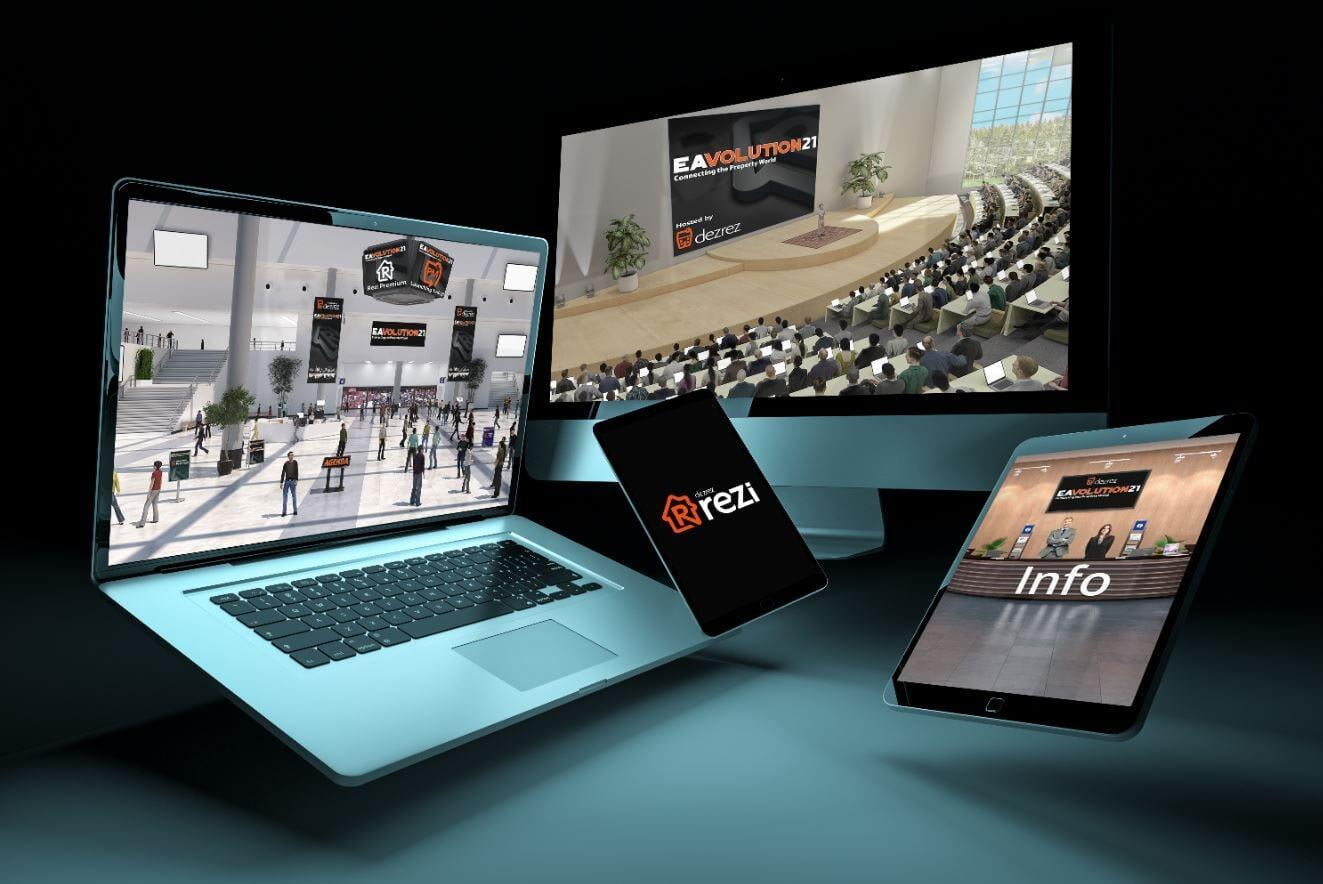 Dezrez to Host EAvolution21
As part of our plan to 'Connect the Property World' at Dezrez, we are proud to be hosting
EAvolution21
, a virtual PropTech event taking place on March 23rd 2021. Due to the current circumstances, EAvolution21 will be different to our events in previous years, no doubt, but it promises to be revolutionary.
This is the first exhibition of this type to be held in the UK property industry, so whether you become a partner or
register as an attendee
, it's an event not to be missed. What's more, it's completely free to attend!
Covid-19 is still impacting us all, so we felt that the safest way to 'Connect the Property World' was to organise an online event where the PropTech community could come together virtually. EAvolution21 will be held in an immersive, highly interactive online environment, with avatars exploring the lobby, exhibition hall, auditorium and help desk.
To attend, all you need to do is complete our short
registration form
and login on the day – you don't need to download anything and it won't cost you a penny.
Richard Price, Managing Director of Dezrez:
"Over the past 3 years our EAvolution events have connected the latest PropTech and innovation with property professionals at locations across the UK. This year, in association with our partners, we are excited to be able to host our biggest and most exciting event yet. This property industry first, virtual event is enabling us to bring exciting new innovations and integrations to more delegates than ever before, without the restriction of location and space. Up to 3000 property experts will be able to join our innovative and immersive virtual platform to learn about exciting new advancements in the PropTech world.
If you want to find out how you can use the latest tech to drive more leads and improve customer service then this is the event for you. With PropTech exhibits, webinars and guest speakers all under one virtual roof you'll see how our mission to connect the property world can help your business today.
Another reason not to miss the event is the launch of Rezi PM our ground breaking property management solution that will help you do more with less. Fulfil your sales marketing and property management needs with one cloud based, mobile and integrated CRM.
If all this wasn't enough, the event is free to attend."
Not only will estate agents and property professionals enjoy the experience of attending EAvolution21, they will also benefit from it in a variety of ways.
As an attendee, you will be able to:
Gain an advantage over your competitors

Learn more about some of the latest innovations in PropTech

Chat with industry experts

Access live or on-demand webinars from special guests

Experience an interactive virtual environment like no other

Enjoy the event from the comfort of your own home
Exhibitors will include a number of our industry-leading integrated partners, who will be showcasing their latest services using their booths, webinars, videos and downloadable documents. Whether you're an estate agent, landlord, property manager, or simply someone interested in PropTech, EAvolution21 is a must-attend.
EAvolution21 FAQs
Is EAvolution21 free? Yes, our event is completely free to attend.
When is the event? EAvolution21 will begin at 9am on the 23rd of March 2021.
Who should attend the event? We urge all property professionals to attend EAvolution21, including estate agents, landlords and property managers. As the industry becomes increasingly tech-orientated, the event will help you gain an edge over the competition.
Will I need to download anything to attend? No, all you need to attend EAvolution21 is a device with internet connection. There are optional Zoom calls with industry specialists available, so you may want to create an account beforehand in order to save you time, but this is by no means compulsory.