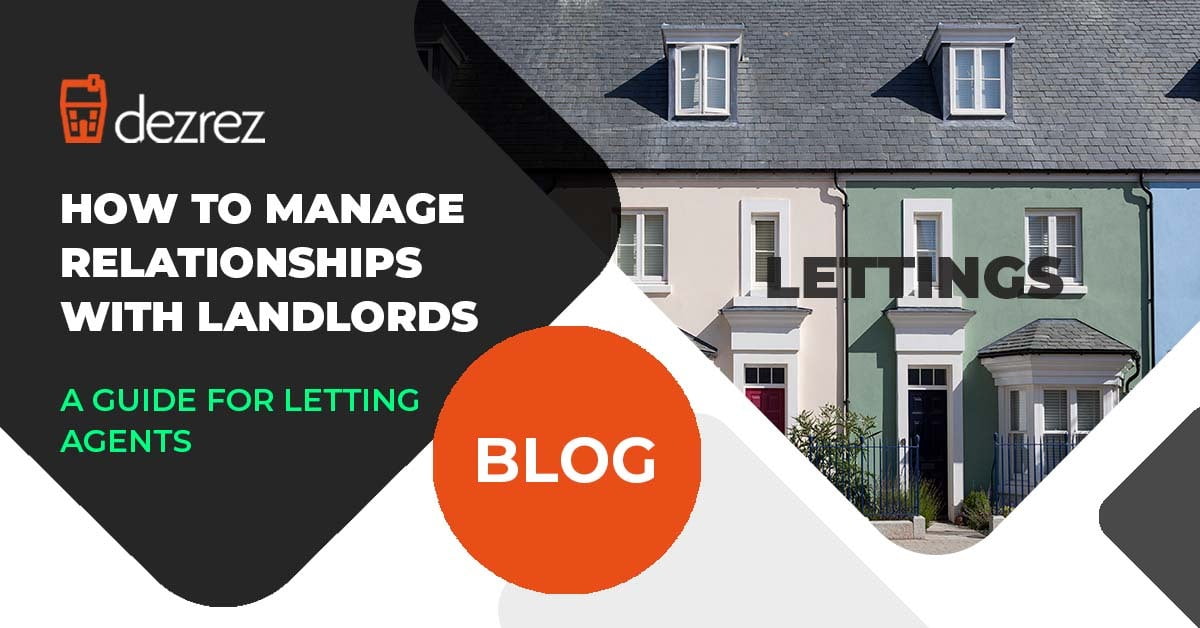 Landlords can be a letting agent's trickiest client group. They are putting their property in your hands, and entrusting you to manage it well. For letting agents who offer property management services, you need to strike the balance between effectively managing any tenant issues or maintenance queries and keeping the landlord in the loop. Landlords who rent out managed properties will have little to no direct contact with their tenants. It's on you as the person in the middle to ensure all parties are kept happy and communication is clear for everyone.
It can be difficult to know how to effectively manage and maintain a relationship with landlords. Most private landlords won't want to be bothered with the day-to-day running of their rental property, so you'll need to know when it's time to get a landlord involved and which issues you can handle solo. You'll also want to make sure all of your communications are efficient when you do contact your client to maintain a good relationship.
Customer Relationship Management software (or CRM software for short) is a crucial tool for all estate agents and letting agents. Estate Agency software with an in-built CRM system enables lettings agents to seamlessly communicate with both landlords and tenants, automate email communications and keep on top of their portfolios.

Effective CRMs can facilitate building positive relationships between letting agents and landlords via seamless communication and improved workflows. We're going to be going into detail on different methods that lettings agents can use to foster, manage and maintain good relationships with landlords throughout the tenancy and beyond.
When to Communicate with the Landlord (and When to Leave Them Alone!)
Private landlords of managed properties won't want to be bothered with the running of rentals. After all, that's why they hired you!
Landlords are your clients, first and foremost. So, you need to ensure your client is satisfied with the service they're receiving. As a letting agent, you're the point of contact for the tenant if they have any issues with the property. Most queries you'll be able to deal with by communicating with the tenant directly, but when do you contact the landlord?
Let's use the example of a tenant registering a maintenance issue. As a property manager, you'll respond to the query and send out one of your maintenance team (or a trusted contractor) to assess the situation. As a rule of thumb, you'll need to contact the landlord if there is anything that requires a 'green light' on a payment. Let's say there's a leak - you'll send the landlord a quote for the work that needs to be done and manage the communication between the tenant. Once your landlord agrees, you can go ahead and book in the repairs.
Building a good relationship with a landlord is all about ensuring they are kept up to date with any significant issues facing their rental, but benefit from the convenience of not dealing with non-urgent queries from their tenants.
Creating trust through clear communication
Communication is an important aspect of any working relationship, and this couldn't be more important than in property management. Developing open lines of communication is crucial for letting agents to manage and maintain a relationship with landlords as problems can be resolved faster and more efficiently.
You'll need an efficient means of getting in contact with a landlord if any property management issues come up. Our estate agency software solution,Rezi Premium, provides every letting agent with the necessary tools to seamlessly communicate with their clients. You'll be able to find each landlord's contact details easily and communicate with them from within the CRM solution using automated email workflows.
Not only this, Rezi's CRM software enables all tenancy related information and updates to be uploaded onto a centrally accessible dashboard, so all property information is kept in one place. You'll be able to clearly communicate the status of the property with the landlord effectively at any time using the cloud-based software, and ensure that your client feels informed with the goings-on of their property.
Focus on relationship building - not admin
Managing a relationship between a landlord and estate agency can be tricky at times, especially where there are a lot of properties involved. One of the main challenges letting agencies face when maintaining client relationships is being preoccupied with consistent admin.
Your property portfolio is always changing, whether it's new tenancies for a property, tenancy renewals, chasing rent or finding tenants. With an effective estate agency software solution, you can automate many of your day-to-day tasks and streamline your workflows. Spending more time on the important things such as communicating with tenants and organizing inspections can help to ensure that landlords are kept satisfied.
Automating your workflows in your CRM also removes the potential for human error. When an agency is manually sorting large quantities of data by hand, human error will inevitably rear its head. You may mix up the cost of rent for a rental property, and lose vital information of a tenancy agreement.
Our software is integrated with Zapier, a workflow automation tool. Your letting agency can use this tool to set up automated 'Zaps' and workflows to complete a multitude of tasks. For example, Zapier allows agents to pull data onto a spreadsheet or google doc automatically to enable landlords access to any information about a tenancy quickly and efficiently, without the potential for error.
Happy tenants means happy landlords
Any landlord does not want to see an empty house. As a letting agency, it's your job to ensure that each letting is consistently filled with suitable tenants. Win for your agency, win for the landlord. To do this, letting agents can do two things: ensure the right tenant is matched to the property and that the tenants stay happy (and stay renting!)
Of course, getting the teabags in is only half the battle. Ensuring the landlord's properties stay occupied long term by happy renters is the other element of building a relationship between estate agencies and landlords.

Happy tenants who pay their rent on time and keep the property well maintained make for happy landlords.
The recipe for happy tenants is simple. Tenants want their problems to be resolved as smoothly as possible. Even something as seemingly obvious as being able to communicate with their agency easily when something comes up can result in a much happier tenant. Using a CRM to ease communication or setting up an automated email response if you can't get in touch straight away is a simple tip for letting and estate agents to keep happy tenants, and therefore happy landlords!
Landlords are trusting you with their most valuable assets. So, it's important that your upkeep on maintenance is high. If landlords see that you are not taking care of their property, it can irreversibly damage your relationship.
As a maintenance issue is being dealt with, estate agents can update the progress of the maintenance in real time, keeping the landlord in the loop. This can help to reassure them that their rental property is being managed well, and in turn help to foster a strong relationship.

Handle the complex rental issues
As a letting agency, you are providing a service that intends to manage landlords, tenants and properties. In order to provide your service effectively, you must take control of certain tasks that the landlord themselves may struggle to do.
This includes taking care of legal responsibilities such as providing health and safety information, compliance schemes and ensuring that the property is completely government-approved. Rezi Premium ensures letting agencies are fully compliant with any legal requirements regarding renting, such as providing energy performance certificates (EPCs) and undergoing comprehensive AML checks.
Assure your landlords that these nitty-gritty issues will be taken care of, and taken care of well and it will create a good relationship between both parties.
Many landlords struggle to trust letting agents with their properties, particularly when they opt for a fully managed arrangement.
Dezrez's estate agency software can help to create a strong relationship between letting agents and landlords, with our different solutions for all of your needs. To discover how Rezi software can transform your agency's letting capabilities, book a demo with us today.