Property managers dream of a complaint-free property portfolio, but complaints are inevitable along the way. Property Management software is the key to managing and resolving tenant complaints efficiently.
Property management is challenging at the best of times. Ensuring rent is paid on time, the property remains in a good state of repair and communication is clear are all parts of the day-to-day for property managers. There are certainly a lot of plates to spin, and anything to make this easier to manage is music to most agents' ears!
Being as efficient as possible when handling tenant queries and complaints is key to keeping your portfolio happy, avoiding damage to properties or negative reviews on Google. Whether it's a maintenance, legal or an accounting problem, handling tenant complaints and queries quickly will encourage longer tenancies and minimise headaches in the long term.
How Can Property Management Software Help You Manage Tenant Complaints?
As your letting agency grows, you'll take on more properties and clients, increasing the admin and complexity relating to your property management portfolio. Contact details can get lost, complaints and maintenance requests can be forgotten about and the potential for human error increases.
Property management software helps to minimise these risks, using automation and intuitive workflows to maximise your time and communications with clients.
Helping Property Managers Take Action Faster
Tenants often find issues with their rental property, especially in the first few weeks of their tenancy. Whether it's a small repair or a larger housing maintenance issue, tenants want to see action being made to resolve their problem quickly.
Property management software can streamline:

Property Inspections

Maintenance Management

Data Management

Time Management Using Dashboards

Accounting Management
As a Property Manager, you have been entrusted by the landlord to maintain the property condition and value. Maintenance issues are one of the most common complaints you'll receive from tenants and its imperative you respond fast. If you fail to address a maintenance issue and it worsens, your landlord client will not be impressed and you may be liable for damages.
One way property management software can reduce tenant complaints is keeping on top of property inspections.
ReziPM is an industry-leading cloud-based property management software system which holds data on each of your properties including when the most recent inspection took place. These inspections can include checking for damp, ensuring appliances are in working order or updating a Gas Safety Certificate. ReziPM will send an automatic reminder to inspect the rental property and check appliances on an annual basis for their PAT test, for example.
Keeping on top of property inspections using property management software provides both tenants and landlords with confidence that property upkeep, tenant satisfaction and safety are your top priorities, reducing the amount of complaints you may receive.
You may also be interested in: How to Manage Relationships with Landlords: A Guide for Lettings Agents
When maintenance requests are submitted by the tenant, ReziPM software can help you to ensure that the repairs are done promptly and on-time.
Each property in your portfolio will have a profile within the software which alerts you to maintenance requests, the status of the maintenance work and updates to provide almost real-time progress being made by the contractors on the work.
ReziPM can streamline maintenance on the rental properties in your portfolio in one end-to-end solution. From within the ReziPM software you can find contractor contact details, make contact and process invoices. So, when a housing complaint arises, the agent can find the solution quickly using the management software and make progress on the maintenance almost instantaneously.
Data management and GDPR compliance is a key issue for property managers given the sensitive data that we have access to. Data leaks can cause big complaints from tenants and landlords, so ensuring this is secure is crucial.
Time Management Using Dashboards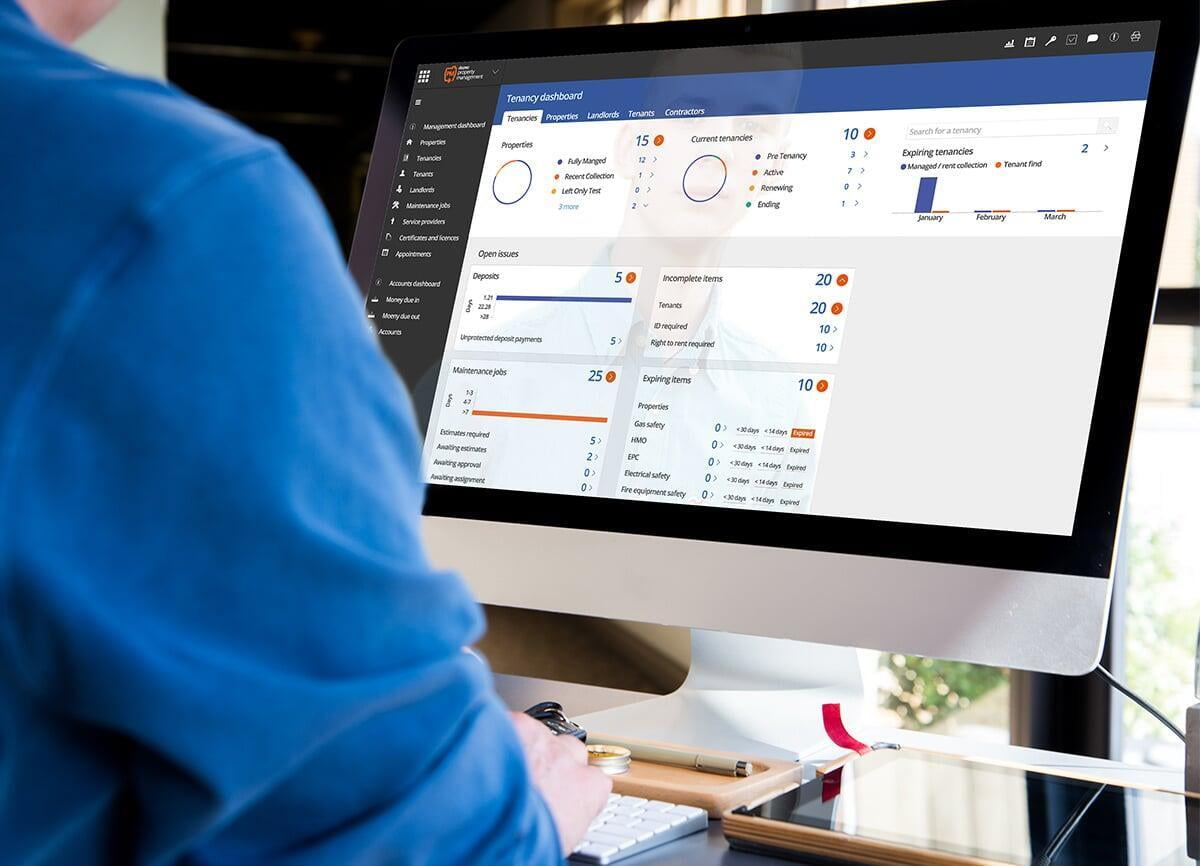 ReziPM provides an all-in-one, cloud-based dashboard for property managers to access at any time. Cloud based property management software ensures you can access the information you need at all times, no matter whether you're at your desk or at the property! This means that your tenants' concern will never fall through the cracks.
Within the ReziPM software we have made sure you never miss a beat with email sync so you're notified whenever an email is sent by a tenant. ReziPM software can be accessed at any time, so any time of the day agents can prioritise urgent problems so you can take action quicker, wherever you are.
Dashboards can reduce tenant complaints as you have a birds-eye view of everything going on in your portfolio and what you need to keep track of. Being on top of your portfolio ensures when a complaint does arise, you can find a solution as soon as possible.
When you offer property management in your lettings agency, you want to provide an end-to-end service for landlords. This includes collecting rent, paying landlords, paying invoices, processing deposits and more.
Managing accounting tasks can be challenging, especially when you have a large portfolio. You may have many rental properties, many tenants and many landlords within your portfolio; all with different details and sensitive information.
ReziPM is compliant with CMP (Client Money Protection) schemes, GDPR and RICS (Royal Institute of Chartered Surveyors) so you can be sure client money is processed securely and efficiently. Even better, for contractors, ReziPM has an in-built invoicing procedure and can draw up documents so that you don't have to drown in paperwork.
Compliant accounts ensure you never have to worry about a tenant or landlord complaints regarding money processing!
Why Invest in Property Management Software to Help Handle Complaints?
ReziPM cloud-based estate agency software can assist property managers to manage tenancy admin with automated workflows, streamline time-consuming processes and reduce human error, reducing complaints.
Utilising the efficiency of property management software ensures that you never miss a task on your to-do list so you can resolve any complaints or issues quickly and efficiently, leaving you with satisfied tenants and landlords.
From tenant screening, managing rent, and liaising with the landlord, commercial property management software provides a long-term solution to managing rentals in your portfolio and can help reduce and resolve complaints.
Start managing rentals better today by booking a demo with a member of our friendly sales team.